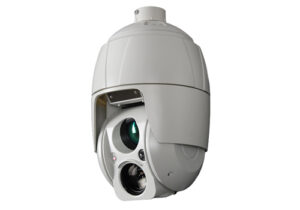 Vista has introduced the VK2-HD30LRIR-PM, a PTZ dome with 500m IR illumination. An addition to the VK2 range, this 1080p 30:1 optical PTZ pendant mount camera utilises a 1/1.9" Sony Exmor CMOS chipset. Darkbuster mode allows the camera to operate in 'ultra-low' light situations.
For instances where there is no ambient lighting, the VK2-HD30LRIR-PM includes integral IR illumination. This tracks with the zoom function of the camera providing optimum illumination over the zoom range for balanced images at distances of up to 500m. For troublesome scenes of view, the VK2-D30LRIR-PM incorporates true WDR (120dB). Increased functionality is also facilitated thanks to four alarm inputs, two-way audio and the ability to record directly to a Micro SD memory card. The camera has been designed with a quick fit, quarter turn bayonet adaptor which means it can be installed into any standard 1.5" NPT threaded bracket. This, says the company, makes installation quicker and easier whilst also avoiding excessive twisting on the cabling.
The VK2-HD30LRIR-PM is ONVIF compliant and compatible with Vista's software and hardware recording and control solutions as well as other third party manufacturers' VMS systems.
Kramar Donachie, Vista Product Manager, comments: "When in Darkbuster mode the camera produces colour images in extremely low light conditions and the use of 500m of IR illumination in monochrome mode allows for long distances to be covered by the camera."