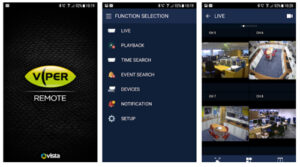 Vista has revealed the latest features and functions added to the Viper range. The overall purpose of the Viper Family is to provide a multi-format recording platform, allowing end users to pull together Viper High Definition Analogue DVRs and Viper IP NVRs into a single, seamless system.
The latest addition to the range is Viper-Remote, an app that allows operators to be in constant contact with their security system. The app provides alarm notifications straight to the user's device, the ability to view live and recorded images remotely, various display options and an intuitive navigation system. Search options also ensure that time is saved when reviewing footage and important events can reportedly be found with ease. The app also allows for the management of devices in the system providing the opportunity to add and remove devices whenever necessary, from a remote location.
Vista has also been working to enhance the functionality of the H5 range of NVRs. The latest development is the de-warping function that allows 360 degree cameras to be viewed in a 180 degree view. This development aims to improve user experience by making reviewing images as simple as possible. In response to 'Voice of Customer' feedback and suggestions Vista has also been working on making the range compatible with Immix.
Bob Forehand, Vista Technical Manager, comments: "The Viper Family is a flexible range that allows end users to 'mix-and-match' Viper units, combining both IP and analogue systems. The flexibility of the range means that the solution can be developed over time, saving on upfront costs and accounting for the requirements of growing or developing systems."