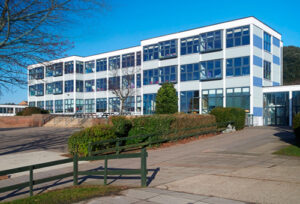 A fire safety system upgrade at Harwich and Dovercourt High School, a mixed secondary school and sixth form with academy status serving more than 1,200 students aged 11 to 18 years, has 110 Vimpex Fire-Cryer Voice Sounders at its heart to help protect students and staff.
The upgrade, installed by life safety systems specialists Anglia Fire Protection, comprises 24 Vimpex wall-mounted Fire-Cryer and 86 Midi Fire-Cryer Voice Sounders, with custom built voice message controllers built to the customer's specification.
Fire-Cryer Voice Sounders can be programmed to produce bespoke messages and tones designed for the educational environment. The advantage of using multi-message voice sounders in schools is that traditional fire alarms can be mixed with everyday messages such as class change. It can be customary practice for schools to use the fire bells or sounders to announce class changes with the potential for confusion during an actual fire or routine test.