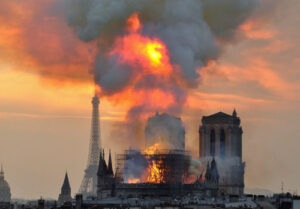 Old buildings are at their most vulnerable when undergoing repairs says Nicholas Bye, Director, VPS Group. Here he outlines the lessons to be learned from the Notre Dame fire
Last year in the UK some 300 historic buildings were damaged by fires, with many occurring whilst undergoing renovations or repairs. There is an online national database of fires in heritage buildings that records all reported fires, and so far in 2019 they have 152 fires noted.
Archaic buildings are particularly susceptible to the fast spreading of fire due to dry old wood, voids and cavities in walls, floors and ceilings, effectively providing 'runways' for the flames. Windsor Castle's 1992 fire, for example, was sparked by a workman's spotlight accidentally set-ting a curtain alight in Queen Victoria's Private Chapel.
Buildings undergoing refurbishment are vulnerable as they're likely to have exposed wires and timber, and potentially hot works occurring as part of the renovation. All construction sites are high-risk safety areas in any case, as all it takes is a spark from a sander, an abrasive chop-saw, a blow torch or ash from a cigarette, to ignite common and flammable construction materials like wood, solvents, packaging and fuel. Fire swept through the top floor of the Paris Ritz Hotel as it was undergoing refurbishment a couple of years back, with 150 building workers evacuated from the site, and more recently, a huge fire destroyed a seven storey apartment building under construction in Raleigh, North Carolina.
So, following the tragedy of the 886-year-old Notre Dame fire in Paris last week, what can we learn from these occurrences to try and reduce the risks?
Firstly, ensure there's a regular fire risk assessment in place – for 'static' buildings (i.e. not under-going any repairs or refurbishment works), they can vary from annual to every 3 or 4 years, but construction sites or buildings undergoing works can be very dynamic, with the site changing almost on a daily basis. In these circumstances it makes sense to have a more regular fire risk assessment to ensure that any changes to the layout that the works have created are taken into account. One fire officer gave me a tip recently when walking through a site. To ensure that all the fire doors have been checked and opened, inspectors stick a little date sheet on the inside of the door frame. Invisible when the door is shut, every time they inspected and opened the door, they jot down the date on the paper list. A simple but effective way for the property manager to make sure the assessor/inspector is carrying out their job.
Secondly, install temporary fire detection equipment whilst works are being carried out. Wireless technologies available now allow for CE approved fire alarm systems to be installed without having to be cabled in and damage the framework or basic infrastructure of a heritage site, or of a new build for that matter. Fire extinguishers, blankets and escape route signage are all relatively easy to obtain and install. For particularly significant sites, or ones which are environmentally at high risk, 'Smart' CCTV towers can be deployed very quickly to maintain a fire alert even when the site is deserted, say at night. They can also be easily re-aligned in different spaces as the repair works move through the premises. CCTV towers can have fire sensors attached and be connected to a 24⁄7 monitoring station. If an alarm is triggered, the monitoring centre can verify whether it is a fire or a false alarm, significantly reducing the hindrance of fire services being called out in error.
Finally, everyone on site should be made fire safety aware – there's plenty of simple materials available on line – and there's no better opportunity to do so than after a major blaze has occurred, such as Notre Dame. The dangers and risks are really high in people's minds after these types of events, and staff may be less blasé about them. There should be a locally on-site fire safety lead, to carry out regular sweeps checking the site is compliant with the assessment; even having someone walk round on a daily basis wearing a fire safety arm band helps to raise awareness.