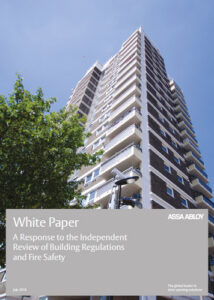 Assa Abloy UK has issued its whitepaper in response to Dame Judith Hackitt's Independent Review of Building Regulations and Fire Safety, following the Grenfell Tower incident of 2017.
The whitepaper summarises practical recommendations derived from the key points made within the Independent Review and advises ways in which the industry can work together towards best practice.
Compartmentation has been highlighted as a key reason for the failures at Grenfell. Fire doors intended to stop and slow down the spread of fire were not performing as designed, due to failures in hardware specification and lack of fire door inspections.
The paper also highlights the importance of not only ensuring that third-party certification for fire door products is in place and specifications are fit for purpose, but also ensuring that they are installed correctly and maintained.
Tina Hughan, Marketing Director for Assa Abloy UK, said: "Our latest whitepaper has been issued to reflect on the findings of the Hackitt Review and make recommendations based on our many years' of experience within the fire door industry.
"We believe we need to work collectively to create a cohesive industry that puts fire safety at the forefront of building design, construction and maintenance, and this paper suggests ways in which manufacturers, architects, specifiers, contractors, facility managers and end users can come together to ensure that thorough due diligence is carried out at each and every stage of a project where fire doors are involved."
Download the whitepaper here