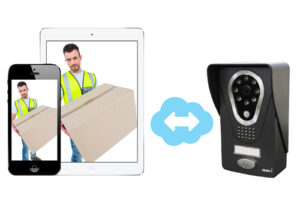 Y3K Europe has launched SmartBell, billed as the next generation in wireless doorbell technology. Installers can position the weatherproof wireless camera unit next to an entrance so that the camera can view anyone who calls at a premises. Power up with the power supply in the box, connect to WiFi or a wired network and the unit is ready.
Users can download the Smart-I Bell App to a smartphone or tablet that will alert them to the presence of a visitor. Once installed users can remotely see and speak to callers, from anywhere in the world, or open the door if an electronic lock is fitted. The iOS/Android compatible App also allows various camera and security settings to be adjusted and gives users the ability to take snapshot views or manually start recording of video images, both of which can be retrieved using the date/search function.
If the unit is tampered with it will sound an alarm and with built-in LEDs the camera will activate automatically when used in low light. SmartBell is fitted with on-board PIRs that detect motion and trigger recording when an object is within its range. The app allows users to toggle the video recording time between 10, 30 and 60 seconds.
Additionally, Y3K offer an internal Wireless Ringer that acts as a sounder, so users can be alerted to visitors if you away from the App device.