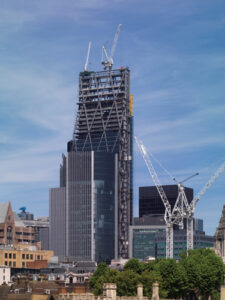 The Leadenhall Building in London has become the tallest construction project so far to utilise Ramtech Electronics' wireless fire alarm system. Laing O'Rourke used the company's wireless emergency system (WES) to protect workers and physical assets during construction of the 224 metre, 45 floor central London development.
Around 85 per cent of the Leadenhall Building was assembled off-site for speed and efficiency. Being a wireless system meant that the WES units could be easily repositioned, which was key to keeping up with the level of construction progress for a high rise structure.
The technology also saved time by allowing mandatory weekly fire alarm tests to be carried out using the silent function, avoiding disruption to workers.
Paul Henson, Sales and Marketing Director at Ramtech Electronics said of the technology: "Once the work on site is completed the units can simply be moved to the next construction project."