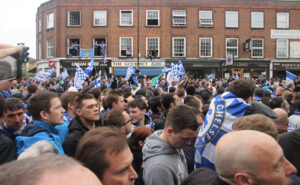 According to Stewart McCone, CEO of Vemotion, now that the football season is in full swing and authorities in town centres are struggling to cope with another five continuous months of problematic crowd safety operations: "Budget cuts mean many areas are struggling to provide adequate coverage, using outdated CCTV systems."
Stewart says: "The hard-wired networks currently in use do not fulfill the potential that modern technology allows and as a result the authorities and clubs are missing out on some key advantages when it comes to crowd safety management. As nearly half of football related arrests occur outside stadia, it is important that these areas are given the very best CCTV coverage to aid crowd management.
"Wireless technology would give authorities a key advantage in managing crowds on match days, not to mention improving the networks for everyday use as well. Wireless technology means that officers on the ground can have live access to clear footage, straight to their mobile phones or chosen devices from any camera on the network. Furthermore, cameras can be moved to different locations where they are needed most in a matter of minutes – something that takes days, weeks or even months to do with a hard wired camera," he concludes.