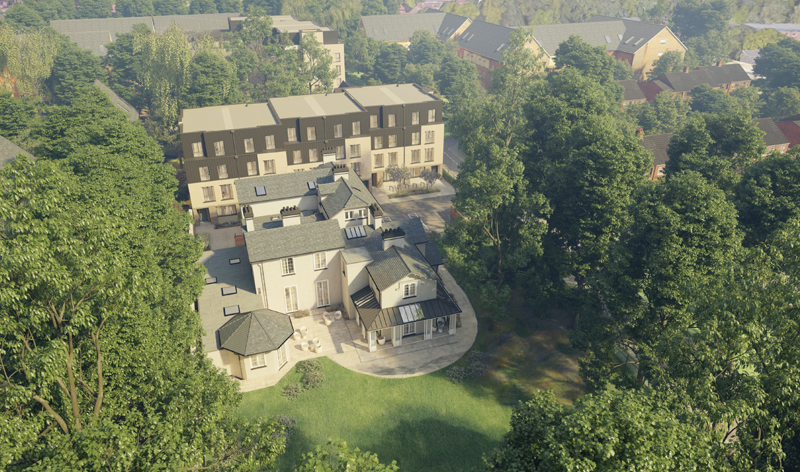 An Evolution analogue addressable fire detection system from Nittan Europe has been installed into a new student accommodation development in Beeston, Nottingham.  The system was installed by  TIS.
Dagfa House is a development of townhouses, clusters and studios adjacent to The University of Nottingham campus. It provides accommodation to 229 students and a range of leisure and study amenities. At the heart of the development is a Grade two listed building that dates back to the 18th-century and was converted into a school in 1948. This latest development has been undertaken by the Cassidy Group.
One of the key fire safety challenges posed by the development was the mix of accommodation blocks, with some being relatively small. A fire detection system was required that could potentially evacuate each site in the event of a fire and that would also be future proof, with spares readily available.
A Nittan Evolution analogue addressable fire alarm system, comprising two individually networked systems, each utilising eight Evolution1 panels and Nittan devices was chosen as the solution because of its built-in network connectivity, plus its ease of installation and cause and effect configuration.
For the primary detection in the majority of locations, Nittan's EV-PYS Optical Detector with built-in sounder was selected for convenience, due to the time required compared to installing separate detectors and sounders, as well as the combined detector/sounder providing a more aesthetically pleasing solution.
In the open areas, such as the cinema room, games room, common room and the communal garden terrace, Nittan EV-HIOP-SB High Output Sounder Beacon VADs were installed.  These devices provide high volume sound, EN 54-23 compliant visual alarm and are waterproofed to IP65.
Nittan EV-MCP2-SCI Call Point with built in short circuit isolators were chosen to ensure the loops were adequately protected, so the system remains compliant even under short circuit fault conditions.  Each Call Point was also fitted with a hinged front cover for compliance with BS-5839-1: 2017.